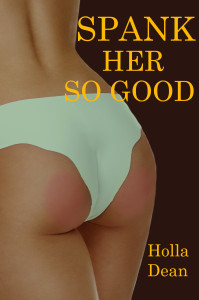 Since the night Mac spanked her for messing up on the marketing materials for the sale of his house, Sam couldn't fall asleep without reliving it.
Excerpt:  Just like every other night since Mac had spanked her, Sam stared up at her ceiling and relived what she had come to refer to as 'the humiliation.' She went over her response when he first suggested she drop her pants and lean over the island counter. What else could she have said? The suggestion had taken her completely by surprise. There had even been a few split seconds where she wondered if her mind was playing tricks on her.
One thing she did know; the moment she realized he was serious, she should have walked out. It had been a mistake to let the state of her financial condition influence her decision to comply with his so-called consequence.
After analyzing the prelude to her capitulation, she relived the feel of his left hand on her back and the first sharp crack of his hand coming down on her panty covered bottom. That first whack had been followed by several more spanks before he'd yanked down her panties and peppered her ass with even harder smacks. Maybe they only felt harder without the protection of her panties.
After Lori told her about being spanked by her former boyfriend as part of foreplay, by the time Sam got to the part where her spanking became a bare bottomed one, her hand invariably ended up between her legs and she pleasured herself while reliving the rest of 'the humiliation.'
Her orgasm usually came when she got to the part where he threatened a date with his belt if she continued being disrespectful. Why that was the final thing that pushed her over the edge, she didn't know.
****
Blurb: Still healing from the loss of her husband three years earlier, Samantha Robbins is struggling to get her real estate career on the right track. When a neighbor on her block tries to sell his house on his own, Samantha calls him hoping he'll eventually decide to use an agent and hire her.
Mac McClintock needs to sell his house. He inherited it from his aunt a few years ago and was hanging on to it in the hopes the value would increase now that the housing crisis was on the mend. He had a ranch to run and his aunt's house was taking up too much of his time. He hires Sam, but lets her know in no uncertain terms he expects things to be done in a timely and efficient manner. It takes her less than two weeks to cause him to take her to task for an error in the marketing of his aunt's house.
Sparks fly when she's given the choice of bending over his kitchen island counter for a sound spanking or having the listing canceled.
Warning: This story contains scenes involving adult spanking, and the discipline of an adult woman by an adult male. Explicit sex scenes. If you are or may be offended by such material, please don't buy this book!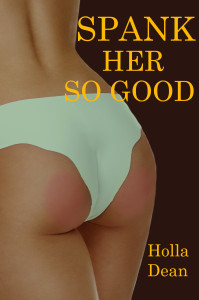 Buy now       Amazon       Barnes & Noble     Smashwords