A to Z Spanking Blog Challenge

Today is G, the 7th letter of the alphabet. I'll be going into my back list today to give you a snippet from Spank Her So Good.
Blurb: Still healing from the loss of her husband three years earlier, Samantha Robbins is struggling to get her real estate career on the right track. When a neighbor on her block tries to sell his house on his own, Samantha calls him hoping he'll eventually decide to use an agent and hire her.
     Mac McClintock needs to sell his house. He inherited it from his aunt a few years ago and was hanging on to it in the hopes the value would increase now that the housing crisis was on the mend. He had a ranch to run and his aunt's house was taking up too much of his time. He hires Sam, but lets her know in no uncertain terms he expects things to be done in a timely and efficient manner. It takes her less than two weeks to cause him to take her to task for an error in the marketing of his aunt's house.
     Sparks fly when she's given the choice of bending over his kitchen island counter for a sound spanking or having the listing canceled.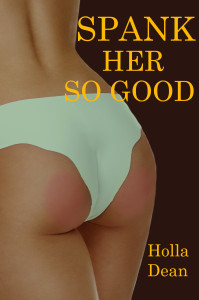 Lead-in: Sam has sent out postcards to advertise her new listing with a typo stating that Mac's house is little more than a shack, a scant 242 square feet. He's upset and concerned that new postcards will take another two weeks to get out, and he's ready to cancel his listing with Sam. She says she'll make it right and do anything if he just doesn't cancel their listing agreement.
     "There has to be a consequence, Samantha. I can't let this mistake slide. Without consequences, I'm concerned you might slip into more carelessness as we progress with the sale of my home. Since I'm out at the ranch most of the time, I need to make sure you'll stay focused on what you need to do."
     "A consequence, Mac? What kind of consequence?" There was obvious suspicion in her voice.
     "A spanking, Samantha. I want you to lower your pants and lean over the kitchen island. I intend to give you a sound spanking that should help keep you on your toes."
     "What?" Samantha wasn't sure she heard him right. Actually, she knew she had heard him right, she just couldn't believe it.
Buy:    Amazon     Barnes&Noble     Smashwords     GooglePlay
Be sure to visit the rest of the A to Z Spanking Blogs!