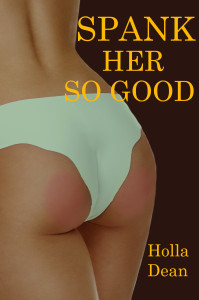 New release just went live on Amazon!  Spank Her So Good
This excerpt is when Mac has just spanked Samantha and now tells her to go stand in the corner:
"Go stand in the corner, hold your blouse up around your waist so it doesn't cover your bottom."
Her face flushed an even deeper red at his order.
"What?"
"You heard me, young lady."
"But…but…"
Mac took a deep breath and said, "Who is charge of this punishment?"
"You are…but…"
"Either stand in the corner with your blouse held up around your waist or you can go back over my knee and we'll continue the spanking with the hairbrush. And then you will still be sent to the corner."
She stood there and looked at him.
"Well? Which will it be? The hairbrush is on the dresser. Either bring it to me or go stand in the corner. Now."
"Yes, sir." Samantha meekly walked to the corner and pulled the hem of her blouse to her waist.
Stand in the corner? Whoever heard of such a thing for a grown woman? Was he looking at her red ass while her nose was in the corner? What was he thinking about? Did he forget about the belt?
So many things were running through her mind. She felt so vulnerable standing there half naked and making sure her blouse didn't cover her reddened bottom. She wondered how long she'd have to stand there.
The room was so quiet she wondered if he'd left her alone. Turning her head slowly to take a peek, she was suddenly startled by his stern voice.
"Face the corner, Samantha. Or bring me the hairbrush."
"Yes, sir." She quickly replied and stared at the paint in the corner, noticing little flaws in the paint.
"How long do I have to stand here?"
"You just started your time over again by speaking. You will stand there until I tell you to leave the corner."
Blurb: Still healing from the loss of her husband three years earlier, Samantha Robbins is struggling to get her real estate career on the right track. When a neighbor on her block tries to sell his house on his own, Samantha calls him hoping he'll eventually decide to use an agent and hire her.
Mac McClintock needs to sell his house. He inherited it from his aunt a few years ago and was hanging on to it in the hopes the value would increase now that the housing crisis was on the mend. He had a ranch to run and his aunt's house was taking up too much of his time. He hires Sam, but lets her know in no uncertain terms he expects things to be done in a timely and efficient manner. It takes her less than two weeks to cause him to take her to task for an error in the marketing of his aunt's house.
Sparks fly when she's given the choice of bending over his kitchen island counter for a sound spanking or having the listing canceled.