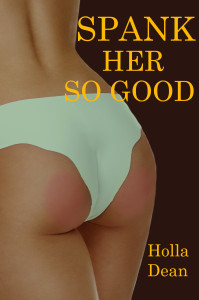 Spank Her So Good – an excerpt
Sam flinched at the feel of his hand on her ass and when she felt the hand lift, she clenched her jaw preparing for the first blow.
CRACK!
"OW!" She exclaimed as her upper body lifted up.
Mac pushed her down again and without saying a word, delivered a volley of blows, alternating between left and right cheeks.
She cried out several more times before he paused. His fingers grabbed the waistband of her white panties and quickly yanked them down to her knees.
"What are you doing? I didn't say you could pull my panties down!"
"You've just had your warm-up. The real spanking is beginning now and everyone knows that a proper spanking is given on the bare."
"I didn't agree to that!" She protested.
"You agreed to take the spanking and I'm the one that determines how that spanking will be delivered."
He pushed her shoulders back down on the pillow as he said, "Stay in position, Samantha. I don't want to have to remove the belt from my pants."
What? Was he really threatening to spank her with his belt?
Blurb:  Still healing from the loss of her husband three years earlier, Samantha Robbins is struggling to get her real estate career on the right track. When a neighbor on her block tries to sell his house on his own, Samantha calls him hoping he'll eventually decide to use an agent and hire her.
Mac McClintock needs to sell his house. He inherited it from his aunt a few years ago and was hanging on to it in the hopes the value would increase now that the housing crisis was on the mend. He had a ranch to run and his aunt's house was taking up too much of his time. He hires Sam, but lets her know in no uncertain terms he expects things to be done in a timely and efficient manner. It takes her less than two weeks to cause him to take her to task for an error in the marketing of his aunt's house.
Sparks fly when she's given the choice of bending over his kitchen island counter for a sound spanking or having the listing canceled.
Warning: This story contains scenes involving adult spanking, and the discipline of an adult woman by an adult male. Explicit sex scenes. If you are or may be offended by such material, please don't buy this book!