Spanking A to Z Blog Challenge

Welcome to the Spanking A to Z  Blog Challenge! Last I checked there were 29 participants in this blogging Challenge. That's a lot! It should loads of fun with lots of good stuff to read! Today I'm posting an excerpt form a book in my backlist, Spank Her Again.
A is for Again – Spank Her Again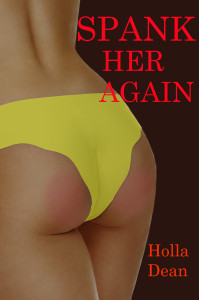 Blurb: Maggie leaves her abusive husband and drives with no destination in mind, all she wants is to get far away from him. She ends up in the small town of Blue Moon, Wyoming and finds herself in the medical clinic after fainting in the grocery store. She's under Dr. Robert Spencer's care and he doesn't think Maggie is taking care of herself. Spence believes in the domestic discipline lifestyle and is ready to see to it that Maggie starts taking better care of herself, even if it means putting her over his knee and reddening her backside. But Maggie just left an abusive relationship and is unsure if she wants to get involved with a man who wants to spank her.
Spank Her Again: After experiencing the amazing hot sex after her first 'practice' spanking, Maggie asks for another spanking.
     Spence kissed her again, this time deeper. He backed her up to the huge bed and said, "You know, this bed has not been really broken in yet."
     "Really?" Maggie asked. "Would you like some assistance with that?"
     "Hmm…yes," He kissed her again. "I think that's a good idea.
     Maggie stood and looked at him. There was something she wanted to ask, but she was embarrassed.
     "What?" Spence asked when he saw she had something to say.
     "I'm a little embarrassed to admit this, I feel funny telling you, but…um…well, I think I would like to have another erotic spanking." Maggie blushed at voicing her desire.
     Spence was surprised, but he took it in stride. "That can be arranged. Why don't we get undressed and take a quick shower to clean up after our hike?"
     Maggie thought that sound lovely. Maybe they could incorporate some shower sex into their cleaning up. She stripped off her clothes, stepped into the huge shower and turned on the water. There were several shower heads delivering water. The main rain forest style one from the ceiling cascaded down on her head while smaller nozzles sprayed water at other parts of her body.
     Spence joined her and squirted some liquid soap into his palm. He rubbed his hands together to build up some lather and began washing Maggie. He started at her ankles and spread the silky lather up her calves and thighs, then over her hips and to her waist. From there, he continued to her breasts. As the water sluiced off the soap, Spence dipped his head and took a nipple in his mouth and suckled on it.
     Maggie moaned and reached for his cock. It was already hard and throbbing. God, she wanted to feel it deep inside her. She wasn't sure she could wait much longer.
     Spence slipped a hand between her legs, parted her pussy lips, and slid two fingers into her. She was warm and very wet.
     She moaned again, "Spence, I don't think I can wait. I want you now, inside me. Please fuck me."
     He shut off the water, grabbed a large towel and wrapped it around both of them. Holding her close, inside the cocoon of the towel, he maneuvered them towards the bed.
     "I'm going to fuck you, Maggie. I'm going to ram my cock into your wet pussy and fuck you until you come. But first, I'm going to spank you until your ass is a rosy red."
Buy at      Amazon      Barnes & Noble      Smashwords