A snippet from Spank Her Again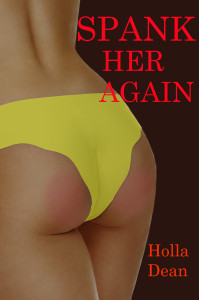 Things are getting hot and heavy between Spence and Maggie. But Spence wants a domestic discipline relationship and Maggie is afraid. She's just left an abusive husband and has no plans to ever let a man hurt her again.
Excerpt:  "Maggie, honey. This is happening all too fast. You know what kind of relationship I want and I'm not sure you're ready for that." Spence's voice was hoarse with desire. His cock was hard and throbbing. He wanted to sink it deep inside her pussy and make her come all over him.
Maggie knew he was talking about his spanking obsession. Right now she didn't want to think about that, she just wanted that massive cock deep inside her. She looked into his eyes and said, "Spence, I want you inside me now. But I've just walked out on an abusive man and I don't ever plan on letting a man hurt me again."
Spence gathered her in his arms and kissed her. "Maggie, I'd never abuse you. Spanking is not abuse, it's a corrective measure. Yes, it does sting, but it's a sting to remind you not to do things that could be harmful to you. I don't like seeing that fear in your eyes."
"I can't help it, Spence. I'm afraid. I've never been spanked and the whole idea of spanking an adult seems weird to me."
Their desire had ebbed somewhat with the talk of spanking. Spence still had a hard-on, but it wasn't as urgent now to ram it into her. He had an idea, but wasn't sure she'd go along with it.
"Maggie, let me spank you now. We'll call it a practice spanking to help you get over your fear."
Her eyes opened wide and Spence saw the fear in them. He rubbed her arms gently and said, "It'll be a light spanking, no pain, I promise you. I want that fear to leave your eyes. I'm not the brute you left."
Blurb:
Maggie leaves her abusive husband and drives with no destination in mind, all she wants is to get far away from him. She ends up in the small town of Blue Moon, Wyoming and finds herself in the medical clinic after fainting in the grocery store. She's under Dr. Robert Spencer's care and he doesn't think Maggie is taking care of herself. Spence believes in the domestic discipline lifestyle and is ready to see to it that Maggie starts taking better care of herself, even if it means putting her over his knee and reddening her backside. But Maggie just left an abusive relationship and is unsure if she wants to get involved with a man who wants to spank her.
Available at Amazon and Barnes & Noble