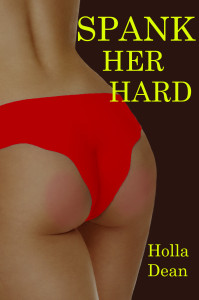 Spank Her Hard  is the story of a young mother trying to work her way through nursing school. She makes the tough decision to go to work as an escort and meets Joe Ryan as one of her first clients. This is the third excerpt from Spank Her Hard. Read the first one here. And the second one here.
Excerpt:  "Tell me this," Joe said. "Are you at least considering it? Or is it completely off the table?"
"Honestly, I'm not sure. When I see that little pile of money on the table and think about all the things my girls need, and how my car is practically on its last leg, how my mother struggles to help me with the girls so I can go to school; it's very tempting."
"I take it there's a big 'but' coming?" He asked when she paused.
"But, you want to hit me! It's going to hurt, isn't it?"
Joe tilted his head in a slight nod and said, "By definition, yes, a spanking is intended to cause some pain. However, I wouldn't quite equate it with hitting per se."
Nothing was said for several minutes. Joe finally decided to let her off the hook; clearly she was uncomfortable with the notion of receiving a spanking.
"Okay, Francine. I see you're not ready for this, and it's all right. Really, I don't mind. But I do have just one question."
"What?" She asked.
"Isn't your pussy wet just thinking about it? Don't you just want to try it and see what it's like?"
"That's two questions."
"So it is. Are you going to answer them?"
Francine had been ignoring her pussy. Even as it quivered and her legs squeezed tightly together at the thought of a spanking, she'd managed to ignore what her pussy was doing. Her panties were a bit damp. And yes, she did wonder what it would be like. She had to be honest with Joe; she just couldn't lie and deny it.
"Damn it! Yes and yes."
Joe chuckled again and said, "Then why not give it a try? I give you my word that I will go easy on you since it's your first time."
"How can you go easy on me when you said you want to turn my ass a rosy red?"
Blurb:  Francine is a young single mom, living with her mother, trying to support her twin daughters and go to nursing school. She takes a job at an escort service hoping to make enough money that she'll only have to work a few nights a week, giving her time to study and time to spend with her kids. She meets a client who is too good looking and too much of a gentleman to have to use an escort service. She finds out why he uses professional escorts on her first assignment with him. He has a little bit of a kinky side in the bedroom. He'll pay extra, but is Francine willing to accommodate him?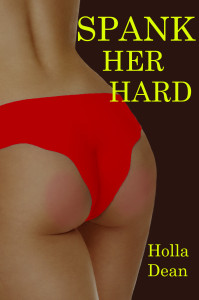 Buy at     Amazon     Barnes & Noble     Smashwords