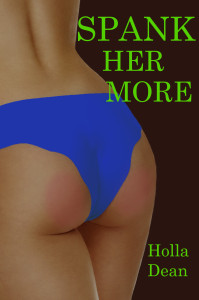 Spank Her More is my book with 5 short spanking stories. This snippet is from the second story, Sunbathing.
Mary is sunbathing on her pool deck while listening to a hot and steamy audio book. She gets so worked up she can't help but let her hand slip between her legs to pleasure herself. Her pool man picks that moment to come into her backyard and gets an unexpected treat. When she finally sees him, she asks him to put some sunscreen on her back and of course he agrees.
"Mmm…you have strong hands. I bet you give a great massage," Mary said as she wiggled her butt in appreciation.
Joe didn't answer; his hard-on was becoming uncomfortable as it strained against his shorts. He moved to her shoulders hoping a little distance from her gorgeous ass would help alleviate that discomfort. It didn't. He worked his way back down and soon was near the edge of her bikini bottom.
"Could you be sure to get just under the top of my bottoms? I always seem to get a little line of sunburn there so I like to make sure I get underneath the edges."
Joe cleared his throat before answering, "Uh…yeah, sure."
He smoothed the sunscreen under the edge of the bikini and his fingertips came in contact with her cleft. That did it; he untied the bikini string at one hip, then reached over to the other side and untied that one as well. He pushed it out of his way, between her legs, and then caressed the smooth mounds of her ass.
Mary smiled into the towel she was laying on and wiggled a little more on the lounge. She let out a small moan when Joe's hand dropped down to her wet pussy and his fingers slipped inside.
"You are so hot," he whispered as he kissed the back of her neck.
"Tell me, Joe, did you see anything interesting when you came into my yard?" She had to know if he'd seen her getting herself off.
Joe decided to tell the truth. "Yeah, I got an eyeful of a hot chick enjoying herself. You ought to be spanked for doing that in broad daylight."
He planted a kiss on her ass.
"Oh my, a spanking? Do you really think I should be spanked? I mean, I am in my own private yard. No one could see me."
Buy Spank Her More at  Amazon  Barnes and Noble  Smashwords