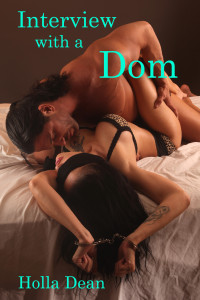 Here's a snippet from Interview with a Dom.  Last time Kylie was at Alex's house to interview him for her BDSM book he spanked her for her disrespectful attitude. She's back now and he has a proposition for her.
"I can take you back into my room and walk you through it one more time. I can describe the various ways to use all the implements and toys. I can tell you how a sub would be spread out on the bed and restrained, or how she would be put on the pony or the cross. But unless you actually experience what it feels like to be in one of those positions, I don't think you can write about it."
"So you're suggesting I let you tie me up? Restrain me?" She asked incredulously.
Alex smiled. "In part, yes. But again, being restrained will not give you the experience to write about what happens next."
Kylie was pretty sure she knew what he was getting at. "Sir, are you suggesting that I become your sub for the night?"
Her ass ached at the thought of possibly feeling one of his canes or paddles striking her and she was sure she felt her pussy quiver even though her legs were crossed.
"I would suggest it for one weekend. From Friday noon to Sunday midnight. Of course, you'd be welcome to stay until Monday morning should you so desire."
Kylie put her glass down on the table in front of her chair. The only reason she didn't blurt out a resounding no and get up and leave was because that would confirm his suspicion that she would immediately decline.
"Let me get this straight. You want me to spend an entire weekend in your torture chamber and allow you to use, abuse, and misuse my body?"
"Sir." She added as an afterthought to make sure he knew she was being respectful.
"Let me clarify," Alex said. "Use? Yes, I will use your body. For my pleasure and yours. Abuse? Misuse? No, this will be consensual so there will be no abusing or misusing."
Blurb: After losing her husband in a tragic car accident, Kylie needs to find a way to increase her income to support herself. She's been a struggling self-published author of romance novels for several years, but she's not making enough money. Kylie decides to write an erotic romance in the hopes of increasing sales. She answers an ad on a BDSM website and hooks up with Alex who says he's willing to teach her all about the BDSM lifestyle she wants to write about. He suggests that she become his sub for a weekend, after all, there's nothing like hands on experience to give her the knowledge she needs. Will Kylie agree?
Buy now on Amazon     Barnes and Noble     Smashwords