Day 13 of the Spanking Blog Challenge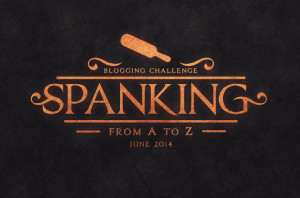 Today I'm repeating a post from the past when I first published Maid for the Cowboy.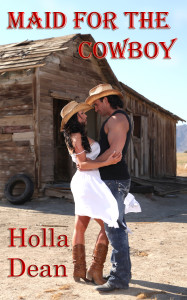 Callie has been caught standing on a stepladder, washing windows. A dangerous activity to Joe's way of thinking. He gives her a good talking to and promises a trip to the woodshed if she does something like this again. The following day, after the bossy cowboy and his brothers leave for the day, Callie decides to finish the window washing job. Here's what happens next:
Callie took the stepladder and her window washing supplies and went outside to finish up the job Joe had interrupted. What Joe didn't know wouldn't hurt him.
Or her, for that matter. She giggled to herself as she thought about his threat of taking her on a personalized tour of the woodshed.
She made good progress, finishing the side she was working on the day before. The back of the house had the screened in porch so she moved along to the third side and continued her work. She was about halfway through with that side of the house when she heard Joe clearing his throat behind her.
At least he didn't startle her this time. She kept working, pretending she hadn't heard him. Butterflies were doing some kind of jig in her belly as she wondered what he was going to do.
"I thought you understood me when I said no stepladder when you're here alone."
"Well, it's too beautiful a day to spend inside and the windows need cleaning. I'm almost done and I haven't had an accident, so all your worrying was for nothing."
"That's not the point, Callie. The point is I said no stepladder. I also remember telling you what would happen and not to test me."
"Yep, you did," Callie pretended not to be concerned. "But I can't wait till someone is around to do my work. All is well, so no need for you to get your underwear in a bundle."
She could see his reflection in the window. It wasn't crystal clear, but she could make out enough to tell he was fuming. What would he do?
Joe put his hands at her waist, picked her up and set her on the ground. Holding her arm with his right hand, he put his left foot on the second step of the short ladder and then pulled her quickly over his hard thigh and began spanking her bottom.
"What are you doing!? Let me up!" Callie yelled, kicked, and cursed.
"Unless you want me to carry you to the woodshed, I suggest you hold still and quit yelling."
He spanked her denim clad bottom with his hand about fifteen times while Callie tried to hold still. She suddenly was pretty sure he'd follow through on his threat to take her to the woodshed. This spanking was painful enough that she had no desire to see what might await her in the woodshed.
He finally let her up, and gripped her arms with his hands, making her face him. "I hope you understand I mean business. We're out here far from medical help and we all need to do things as safely as possible. You will listen to me and do what I tell you when it comes to your safety. Next time I have to spank you, it won't be over your clothes. Do you understand?"
Callie was stunned into silence. She nodded her head in reply as she tried to figure out what had just happened. He had spanked her! Like she was a naughty, disobeying, little girl!
"I need to hear it out loud, Callie. Do you understand?"
"Y…ye…yes, sir." She finally stammered.
Joe turned and walked away, leaving her standing there. Confused, not quite able to believe he'd actually bent her over his knee and spanked her, Callie slowly dumped her bucket of vinegar water onto the ground, picked up the stepladder, and went inside. Had anyone seen what had happened? Where were the other brothers? Jamie was still in school, but where the other three?
Most important of all, why were her panties wet and her thighs trembling?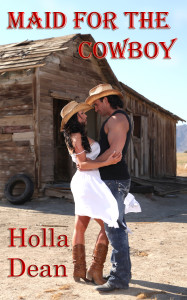 Things heat up between Callie and Joe almost from the start when Callie is hired after answering an ad for a position as housekeeper/cook for five cowboy brothers on their ranch in Arizona. She learns the hard way that Joe means it when he says safety is the most important concern on the ranch. This lesson is given with Callie over Joe's knee and his big hand delivering hard spanks to her bottom.
The attraction between Joe and Callie grows into much more. Soon Callie is in love and has to ask herself if she can reconcile herself to a life with a cowboy who delivers a spanking every time she does something he considers dangerous or unsafe.
Check out all the other posts for today's Spanking Blog Challenge!