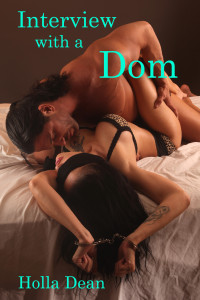 Interview with a Dom:  Kylie goes back to Alex's home to learn more about his way of life and his dungeon. He suggests a weekend experience for her to become more familiar his world. Seeing her hesitate, he proposes a 'practice session' that very night.
Excerpt:  While she was thinking about whether or not to leave, Alex poured more wine for both of them. "If you're agreeable, we could have a small session tonight. Sort of a trial run."
She hadn't expected that! She looked at Alex and said, "Oh…uh…I don't know. I'm not prepared for anything like that."
"Anything like what?" Alex asked with a smile.
"Um…well…uh…you know. Uh…kinky stuff."
"We will do very little tonight." He said. Since she had not outright refused, he thought she just might be ready for a little bit of play. "When you're finished with your wine, you will go to The Room and undress. You will kneel on the mat at the foot of the bed and wait for me.
"Uh…you mean the dungeon?"
"You've been researching on the internet. Some people call it a dungeon, some call it a playroom. I prefer to refer to it simply as The Room. And please do not forget to address me as Sir again."
"Oh…yes Sir. Sorry Sir."
What the hell was she doing? Was she really going to go in that room and strip? The thought was scary and, if her pussy was any kind of indicator, oh so exciting!
She took a sip of her wine and watched Alex. Then she took another sip. It was almost gone. Then she'd have to make up her mind. Leave or go to The Room.
Blurb: After losing her husband in a tragic car accident, Kylie needs to find a way to increase her income to support herself. She's been a struggling self-published author of romance novels for several years, but she's not making enough money. Kylie decides to write an erotic romance in the hopes of increasing sales. She answers an ad on a BDSM website and hooks up with Alex who says he's willing to teach her all about the BDSM lifestyle she wants to write about. He suggests that she become his sub for a weekend, after all, there's nothing like hands on experience to give her the knowledge she needs. Will Kylie agree?