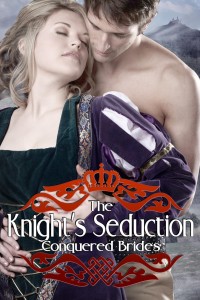 Renee Rose is visiting with me today! This boxed set sounds so yummy I know everyone will love it!
Holla, thank you so much for having me here today!  I was lucky to be part of a new medieval spanking romance box set with authors Sue Lyndon, Ashe Barker, Korey Mae Johnson and Dinah McLeod.  All the stories begin with the sacking of Hohenzollern Castle, when the heroines of the books are carried off by the conquering knights.  My story follows Lady Daisy, a young woman who suffered a terrible fate when her castle had been sacked years ago, and now is terrified to be with a man. Her new husband, has a very coaxing, yet still dominant way with her.  They strike a bargain–she must give her body over to his seduction and he will not consummate the marriage until she begs him for it. Certain she will never do such a thing, she agrees.
Here's a scene with the two of them:
"Do you know what will happen if you try to escape me today?" he asked, reaching out and patting her bottom with the crop.
"I won't," she said, turning away dismissively.
He swung the crop and caught the underside of her bottom, making her leap forward and grab her bottom.
"I said, I wouldn't," she exclaimed, turning around and glaring.
He caught her up in his arms, joining her hands in rubbing away the sting. "Do not glare at me. If I think you need a taste of my whip to remind you to behave, I will use it."
"You," she said furiously, attempting to push him away.
"This little bottom is mine," he said, squeezing it possessively. "Mine to punish or pleasure as I see fit. Do you need another reminder before we go?"
Pride warred with practicality in her expression and he hoped she would test him again, but she shook her head. "No, sir."
He smiled and touched her nose. "Smart girl." He offered his arm. "Shall we?"
She took his arm and they walked out to the stables where Penrod had already saddled his destrier and a pretty roan for Daisy. She stroked the mare, introducing herself and speaking softly in the manner of someone well-accustomed to horses. He helped her into the saddle, then mounted his own stallion and led the way out of the castle gates and into the forest.
The day was quiet. A light dusting of snow had fallen during the night, making everything look clean and white, the snow catching the sunlight and sparkling. They rode side by side, following a path through the trees.
"It's beautiful," Daisy breathed.
He smiled, enjoying her happiness.
She turned to him. "Thank you so much for taking me out today," she said. "I can't stand being cooped up inside."
"Nor can I," he said.
"You don't mind having a wife who prefers to act like a man?"
He bit back a laugh. "Little Daisy, you are nothing like a man. And no, I meant it when I said it was my fortune to have a wife who likes to hunt, for now we have something we can do together." He gave her a wink.
She looked at him doubtfully. "I think everyone at Rothburg will pity you for your poor choice in wives."
"Enough," he said. "Rothburg will accept you, just as you shall accept her. Do not fret over it."
She didn't answer, but within a few moments looked content again, taking in the scenery. They saw a buck and she had her arrow fit to her bow before he did, but his horse stepped on a stick and the buck startled and ran.
They rode for over an hour before they stopped to rest. He helped her from the horse, catching her waist and guiding her along his body as he lowered her, until she landed at his feet, her slender form pressed against his.
He expected her to protest, but she looked up at him expectantly. He bent and caught her lips, tasting her sweetness. When she returned the kiss, he went rock hard. Grasping the back of her head, he took her mouth more insistently, licking into her lips.
When the castle they called home is besieged and ultimately falls, five women are captured and carried off as wives by their foes. Will they be treated as no more than the spoils of war, or can their new lords prove themselves worthy of the love and submission of their conquered brides?
The Conquered Brides is a five-book collection featuring brand-new titles from five top erotic romance authors. This collection includes:
Commanding the Princess by Korey Mae Johnson
As the ruler of Hohenzollern Castle in name only, Susanna has watched helplessly for years as her power-hungry uncle made one enemy after another for her. One enemy stands out, and the moment she catches sight of him, Princess Susanna is certain that it will be Gerhard of Bavaria who brings her world down around her. As his army smashes through her gates, Susanna makes the only choice she has left. She surrenders herself to Gerhard, hoping to win mercy for her people, though she fears it will come at the cost of her life. But she soon learns that Gerhard has other plans for her, plans which may end with her surrendering much more than just her castle to him.
The Knight's Seduction by Renee Rose
Avowed to never again yield to a man's ill-treatment, Lady Daisy stands ready to fight to the death when her castle is sacked. The imposing knight Sir Barrett has other ideas, however, and to her dismay, Daisy soon finds herself not only disarmed, but soundly spanked as well. Sir Barrett takes her as his captive bride, but when she shows real terror at the prospect of consummating their marriage, he offers her a bargain. She will offer her body to him and accept the pleasurable torments he inflicts, but he will not claim her fully until she aches for it so badly she begs him. Certain she will do no such thing, Daisy agrees, but can she resist the knight's seduction?
The Widow Is Mine by Ashe Barker
Since her husband's untimely passing, Lady Natalia has resigned herself to a quiet life as a young widow and perhaps one day as a nun. But when her adopted home is conquered by the enemy, her world is turned upside down. After he rescues her from the chaos of Hohenzollern's fall, Duke Stefan of Richtenholst cannot imagine allowing Natalia to languish behind the walls of a convent. The duke takes Natalia home as his wife, and he quickly proves himself ready to compel her obedience when it is necessary, but can he ever truly make her his own?
Conquering Lady Claire by Sue Lyndon
As Hohenzollern Castle falls, mayhem unfolds around Lady Claire, and her only aim is to lead as many women and children of the castle to safety as possible. In an odd turn of fortune, her courageous efforts ultimately lead to her capture by none other than Lord Galien of Minrova, the very man that her brother, a powerful duke, recently commanded to find her and claim her as his wife. Claire's defiance is quickly overcome by means of a firm hand applied to her bare bottom, but Galien is not content merely going through the motions of a political marriage. His skilled lovemaking soon leaves his new bride begging for more, but can he conquer her heart as well?
Kidnapped and Claimed by Dinah McLeod
When her husband's repeated infidelities and drunken insults become too much to bear, Lady Cecily flees to her childhood home at Hohenzollern, but things quickly go from bad to worse and she is kidnapped from the castle stables only moments after her arrival. Cecily ignores her abductor's warnings of ruin about to befall Hohenzollern and his claim that he took her from the castle only to keep her safe. She resists him every step of the way, until at last he spanks her long and hard. Despite his firm chastisement, it soon becomes clear to Cecily that her captor cares for her in a way her husband never did. But can she forgive him for stealing her from her home?
Publisher's Note: The Conquered Brides contains spankings, sexual scenes, and more. If such material offends you, please don't buy this book.
Buy Links: Amazon, Amazon UK, Barnes & Noble
Renee Rose is a naughty author and kinkster who loves writing about hot alpha males, Dominance/submission and power exchanges. Named Eroticon USA's Next Top Erotic Author in 2013, her books are all centered around kink. She can be found on:
Blog
Twitter
Facebook
Goodreads
Pinterest
Amazon
Instagram
---