Brought to you by Spanking Romance Reviews & The Saturday Spankings Blog!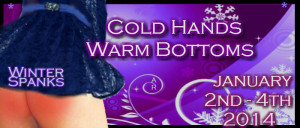 Thank you for joining us for Winter Spanks! Let's warm up with some hot bottoms & cool prizes! Read on for a chance to win:
Kindle or Nook (Blushing Books)

Your Choice of a Free Book Cover for Your Next Book, an Ad for an Upcoming Project, or a Custom Facebook Header or Blog Graphic (Lazy Day Publishing)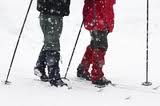 Living in Arizona provides one with a variety of weather within the same season. A winter day in Phoenix can be a balmy seventy-five degrees while less than two hours away are snow covered mountains and ski slopes.
Ingrid and Paul decided to go for a weekend of skiing fun. Neither one of them was very experienced, though Ingrid had a little more time on the slopes under her belt than Paul had. Little did she suspect that she'd be under his belt before the day was done.
Paul was still unsure of his skill and was content to remain on the beginner course.
"Well, this isn't fun for me anymore," Ingrid announced after several runs down the beginner slope. "It's boring, I want to try something a little more challenging."
"I'm not ready for something more challenging," Paul replied. "We're staying here. I don't want to risk injury by trying something we're not ready for."
"What do you mean, we're not ready for? It's you that wants to stay on the baby run."
Paul gave her his 'look' and said, "We're staying on this course, Ingrid."
Ignoring his warning look and tone, Ingrid stomped her ski bound foot awkwardly and said, "You stay here then, I'm going to the next level."
Off she went, skiing down to the lift that would take her to the next run, leaving Paul alone and frustrated in his lack of enough skill to follow her. Seething, promising himself that he'd take care of Ingrid's defiance later, Paul zipped down the beginner run a few more times before returning his skis to the rental center and heading back to their cabin. It was getting late in the day and he knew Ingrid would return to the cabin soon.
There he waited on the tiny porch, drinking hot chocolate with a shot of Kahlua added to warm him up. It was getting even chillier and his hands were freezing. He'd apparently dropped his gloves somewhere and all he had now to keep his hands warm were his pockets and the hot mug.
It wasn't long before he saw Ingrid trudging towards the cabin. She looked chilled to the bone, but exhilarated from her skiing. Glancing up at Paul, she realized he wasn't happy with her actions and knew he'd probably be doing something about it later. Putting a smile on her face, she greeted him.
"Hi, honey. I had such a good time! You really have to try the other run tomorrow." She knew she was babbling, but anything to take his mind off how she'd abandoned him earlier.
Paul put his mug of hot chocolate on the floor next to his chair.
"Come here."
Ingrid obeyed, not suspecting any overt actions from Paul out there on the porch.
Putting his hands on her hips, just under her ski jacket, Paul asked, "Do you think you should have just left me on the slope like that?"
Uh oh, Ingrid felt a lecture coming on. Lectures were usually accompanied or followed by a spanking.
"But, honey…I was ready for the next level. If you're not ready, I don't think you should hold me back."
"Who's in charge, Ingrid?"
"Well, you are…but I still…"
"Who makes the decisions, Ingrid?" He interrupted her.
"Um…you do, honey. But…"
Paul had wiggled his fingers inside her waistband, and now he yanked down her ski pants, with her panties, and promptly put her over his knee.
Whack! Down came his icy hand on her bottom.
"Stop!" She cried out. "You can't do this here on the porch!"
Whack! Another cold smack to her rear.
"Ow! Your hand is freezing! Let me up!"
Whack! Whack! Whack! She felt her bottom warming up despite the chilly air and the icy coldness of his hand.
"You will do as I say." Whack!
"It's not safe to be skiing alone." Whack! Whack!
"I wasn't alone, there were other people around!" She protested.
Whack, whack, whack!!
He lifted her off his knee, stood, and picked her up in his arms with her pants still around her ankles.
"We're going inside, my hand is freezing and I'm not done warming your bottom. I think you need a taste of my belt."
A little thrill ran though her core. Burying her face in the crook of his neck, she replied.
"Yes, sir."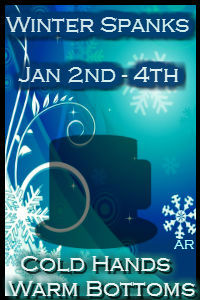 Linky List is down so here's a list of the blogs on this blog hop:
7. Casey McKay
9. Renee Rose
10. Lily Harlem
11. Cara Bristol
12. Adaline Raine
14. Celeste Jones
15. Leigh Smith (aka Sunny Girl)
16. Tara Crescent (BDSM Romance)
17. Sue Lyndon
18. Anastasia Vitsky (Governing Ana)
20. Maddie Taylor
21. Liv Honeywell
22. Joelle Casteel- author of bdsm erotica
23. Sadey Quinn
24. Holla Dean spankin' good romance stories
25. Paige Tyler
26. Thianna D
27. Emily Tilton
28. PK Corey
30. Lucy Felthouse
31. Paloma Beck
32. Kristin Elyon
34. Abigail Armani Erotic Romance Author
35. Johnna Maquire
37. Michelle Graham, Erotic Romance
38. Kates Cravings – Batteries Not Included
42. Elegant Erotica – Maggie Carpenter
44. Jaye Peaches
45. Dinah McLeod
46. Daizie Draper
47. Draven St. James
48. Jolynn Raymond's Dark Obsessions
49. Shoshanna Evers
50. Acknowledging Imperfection
51. We Love Kink
52. 1950s Wife
53. Shelly Douglas
55. Penelope Hasler