If you haven't been to Ana's Spanky White Elephant post for Day 8 of her Advent Calander here's the link:  http://governingana.wordpress.com/2013/12/08/2nd-annual-spanky-white-elephant-gift-exchange-advent-calendar-day-8/#comments
Here's the image of my gift: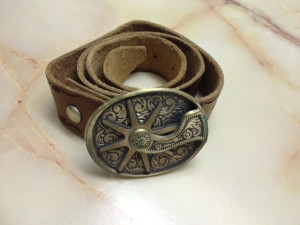 This isn't just your ordinary belt and buckle. The buckle is a cowboy's spur and it spins! As the spanker raises his arm and brings it down again, the spankee will hear the jingle as the spur turns, sending tingling shivers down your spine! Enjoy!!