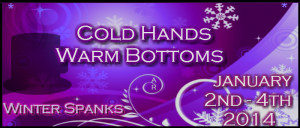 Thanks to everyone who participated in Winter Spanks. It sure was fun. I am only sorry that I didn't have time to read all the stories. I'm still working my way through them.
For my commenters, the winner is Kelsey Summer! Kelsey will receive a copy of Maid for the Cowboy. Please let me know which format you'd like me to send you.
Here's a list of all the grand prize winners:
Kindle or Nook (Blushing Books): Leigh Smith (SunnyGirl)
Your Choice of a Free Book Cover for Your Next Book, an Ad for an Upcoming Project, or a Custom Facebook Header or Blog Graphic (Lazy Day Publishing) – Casey McKay
Three Month Subscription to Discipline & Desire (Discipline & Desire) – Kelsey Summer
$20 Gift Certificate to Amazon (Stormy Night Publications) – Britney Wendtland
Hand Crafted Paddle (Blondie's Place) – PK Corey
Spanking Video DVDs (Shadowlane) – Just Pam
A "Get it All" Bundle (Variant Publishing) – Includes How to Get the Spanking You Want – The Complete Guide to Asking for It, Getting It, & Making It Better, How to Give a Spanking – Advice from the Receiving End, What He Wants – A Man's Seven Secret Spanking Desires, & The Little Book of Spanking Stories
$25 Gift Certificate to Blushing Books (Patricia Green) QuenKe
Learning Domestic Discipline eBook Package (LearningDD) Shadow
$25 Gift Certificate to Blushing Books (Patty Devlin) – Amber
$10 Gift Certificate to Amazon (PK Corey) – Melissa Crisp
$25 Gift Certificate to Cane-iac (Cane-iac) – Amy Bowens
$5 Amazon Gift Card and two books (Leigh Smith) – La Crimson Femme
Custom Social Media package including twitter and FB cover designs from graphic designer The Cover Artisan – Renee M
Books by Maggie Carpenter – BN100
I know I enjoyed this blog hop and I hope everyone else did as well!