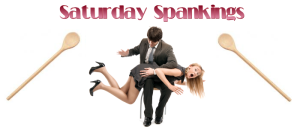 Time for another edition of Saturday Spankings! It seems this is the only thing I'm managing to do on my blog lately. I can't believe we have less than three weeks until Christmas. There's still so much to do! Today I have a snippet from the second short story in my Santa Spanks! book. Out of the three short stories in this book I can't decide if this one or the one I'll give you next week is my favorite. I hope you enjoy it as much as I did writing it. And don't forget to visit the blogs in this hop.
Blurb:  Abbie's job is running the Santa visiting center at the mall. But one of her Santa's can't get to work on time. He has a suggestion for how to bring him in line, but will Abbie go for it? If she does, will she get more than she bargained for?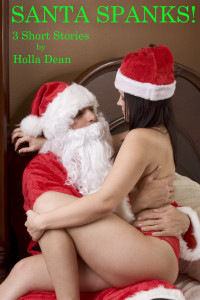 Lead in:  Bill is always late for his shift as a part time Santa. Abbie's job could be in jeopardy if she can't control the people she hires. When another part time Santa calls and quits, leaving Abbie in the lurch with shifts that she'll have to find a way to get covered, Abbie knows she needs to have serious conversation with Bill about him helping to cover those shifts and showing up on time. She accidentally walks in on him when he's changing out of his Santa suit and catches him wearing nothing but a pair of men's bikini briefs. Bill isn't bothered by this and convinces her to talk while he dresses, after all, she'd be seeing this much of him if they were at the beach. The trouble is, he doesn't finish dressing and when she's done lecturing him on his unreliability, he makes an outlandish suggestion.
Bill walked over to the door and flipped the lock on. Then he walked to the desk, leaned over, and said, "Why don't you spank me now, Abbie? Maybe that'll motivate me to be on time and that way we can both keep our jobs."
Abbie blushed and said, "Don't be ridiculous; I would lose my job for doing something so outrageous. Just make sure that you're on time for your shifts."
"Come on, Abbie," Bill urged in a low sexy voice. "Just pick up that wooden ruler you've been making your schedules out with and lay into my ass with it."
What will Abbie do?
Available at    Amazon     Barnes&Noble     Smashwords     GooglePlay
Don't forget to visit the rest of the blogs on this hop!