A to Z Spanking Blog Challenge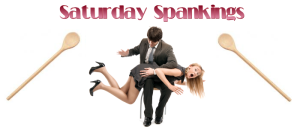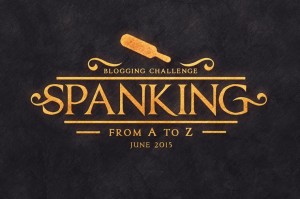 Day 20 of the A to Z challenge and I'm combining it with Sat Spanks. I dug back just a little bit to a release from earlier this year, His to Tame.
---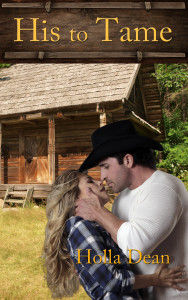 Blurb: Raised by her grandparents after her mother and father are killed in an automobile accident, Julie Fallon returns to the ranch she was born on. Fed up with city life and a job that requires too much travel, she returns to the ranch where her grandfather is now all alone.
When she arrives, she is stunned to discover her grandfather expects her to marry the owner of the neighboring ranch, Seth Berrett, who has been helping Gramps with running his ranch. In fact, marrying Seth is the only way she'll inherit the ranch. The ranch she feels is her birthright and should be hers without having to marrying anyone.
Thrown together with Seth in back to back blizzards, Julie loses her grandfather when he succumbs to his illness and learns she has only thirty days to marry Seth or the ranch will be put up for sale.
To add insult to injury, Seth isn't just your ordinary cowboy. No, he's the kind of cowboy who's made it his mission to paddle her bottom whenever he thinks she needs it. Her grandfather's will states they must be married for at least ten years or the ranch will be sold.
Should she just forget living on the ranch and go back to the job she's grown to hate or can Julie resign herself to enduring a minimum of ten years of marriage to the spanking cowboy?
On her first night at her grandfather's ranch, Julie wakes up from her nap well past supper and goes to the kitchen to find something to eat. She's quietly pulling containers from the refrigerator when she bumps into an unexpected hard chest and she drops what she has in her hands.
    A hand clamped down over her mouth as she opened it to scream and a familiar voice said, "It's just me. Calm down, I didn't mean to startle you."
    "What the hell are you doing here? I thought you left hours ago," Julie said once he took his big hand off her mouth.
    "I did leave, but when I got to the end of the ranch road I decided the storm had gotten too bad and I turned around. I called my foreman and told him I'd be staying here until this blizzard lets up."
    Bending down to pick up the fallen plastic food containers, Julie said, "Keep your voice down, Gramps is sleeping on the sofa."
    Seth smirked and said, "That was me on the sofa. Didn't you make sure your grandfather was in his bed before you went to your room?"
    "No, I left him sleeping in his chair. He looked so comfortable and restful I didn't want to disturb him."
    "He has medication he's supposed to take at night, did you give it to him?"
    She rolled her eyes and asked, "How the hell would I know he has medication to take if no one told me?"
    "Keep on with your attitude, swearing, and eye rolling and you're going to find yourself over my knee getting your bare bottom warmed up."
    Her eyebrows drew together in a frown. "What are you? Some kind of Neanderthal? What is this thing with you about spanking me?"
    "No, I'm not a Neanderthal, just a man who thinks people should behave civilly and respectfully. That includes curbing your attitude, knocking off the swearing, and no disrespectful eye rolling.
    "Well I've got news for you, cowboy. You're not my father, not my husband, not anyone who has any say in what I do or how I behave. Try to spank me again and I'll have your ass in jail on charges of assault."
Buy:     Amazon     Barnes&Noble     SmashWords     GooglePlay     ARE