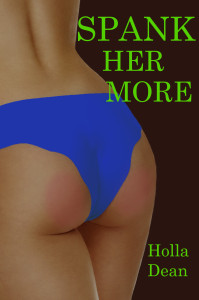 Five hot spanking stories! Three short stories and two novelettes.
This snippet comes from The Repairman, the third story in this book of five spanking stories.
Excerpt: His cock was growing hard again, which was exactly the reaction Cindy had hoped for when she purposely dropped the brush. He got up, walked over to her, and took the grill brush from her hand.
"Let me help you with that." His voice was thick with desire and he just needed to touch her; even if it was nothing more than a brush of his fingers against her hand as he took the tool from her.
Cindy bumped him with her hip and said, "You don't have to do that. I can do it."
"Yeah, I'm sure you can do it. But I gotta have something to keep my hands busy right now."
Oh, this was going better than she planned! He just all but admitted that he wanted to touch her.
"Really?" She teased. "How come?"
"Honey, do you really have to ask? You've been prancing in front of me all evening with that tight top and those shorts. Do you always dress like that when you have a man over for dinner?"
"Do you find something objectionable about the way I'm dressed?" Cindy asked.
"Frankly, yes. You barely know me. I could be a serial rapist for all you know. I wouldn't want my sister dressing like that for some guy she'd only met a few times. And if I had a wife, I'd tan her hide if she dressed like that when a repair man came over."
"Are you a serial rapist?"
"No, of course not. I'm just saying you should be more careful about how you dress in front of men you barely know."
"Would you really 'tan your wife's hide' if she dressed like this?"
Blurb: 
Flying Lessons:

Margie is taking flying lessons from a former U.S. Marine who will bring her to task if she doesn't follow correct flight safety procedure

Sunbathing: Mary is enjoying an erotic audio book poolside when the pool man comes into the yard and sees more than he bargained for.

The Repairman: Cindy just bought a new house but has to keep calling the repairman to help her with her appliances that seem to continually breakdown. Jon informs her she's in need of a good spanking if she doesn't start maintaining them properly.

The Fall: Linda's been trying to bring Domestic Discipline to her marriage for months. Her husband isn't interested in spanking his wife. That is, until she falls and injures herself because she won't listen to his advice. Will he finally give her the spanking she craves to ensure she will take precautions to avoid injury?

The Disciplinarian: After losing her husband in a tragic accident, Amy can't seem to get her life in order. Kevin had always made sure she stayed on track. But he's gone now and Amy needs someone to hold her accountable. Will she find what she needs when she hires a professional disciplinarian or will it be a terrible mistake?

Buy now      Amazon      Barnes & Noble     Smashwords