A to Z Spanking Blog Challenge

The letter Y is for the last of the backlist books I'm going to put in this A to Z challenge.
You're Mine Forever – Clothes. Off. Now.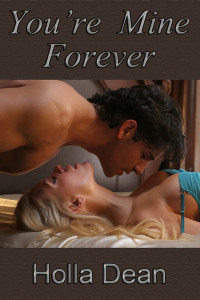 Blurb:  Chelsea dumped Dan eight years ago after catching him in the arms of another women. Refusing to return his calls, Chelsea moves on with her life. Now it's their ten year high school reunion and Chelsea is dismayed to find that Dan is there. Dan only wants a chance to tell her she was wrong and try to win her back. Sparks fly when they meet again, but the other woman is also at the reunion.
Chelsea has no intention of listening to what Dan has to say. She's not going to give him the opportunity to break her heart again.
Dan 'kidnaps' her and takes her to his hotel room determined to force her to hear his side of the story. But one look at her luscious lips, and all thoughts of talk fly out of his mind and a hot, steamy night of love ensues.
When he wakes up, Chelsea is gone. Will he get another chance to explain what really happened all those years ago?
---
Excerpt:  Dan felt it the moment she gave in. Her body relaxed as she kissed him back, she let her tongue caress his tongue, and she moved her hips in answer to his grinding against her. Chelsea stopped trying to buck him off. He had released her hands from his grip above her head and she wrapped her arms around his neck and clutched her fingers in his hair.
She heard him growl; a deep animal-like sound. A shoe slipped off her foot and thudded to the floor. She kicked the other one off and before she knew it, her legs opened just a little bit wider and Dan nestled in even closer.
When he stopped kissing her, she whimpered in disappointment and lifted her head, seeking out his mouth for more.
"It's still there, Chelsea. We still have that thing between us, that spark, or whatever the hell you want to call it. I still love you and you love me."
She didn't want to talk about that now, she wanted more kisses, more grinding; she wanted her clothes off, his clothes off. She wanted him to fuck her. Right now.
"Please, Dan. I want you now."
Shit, he wanted her too. They could talk later. Right now, he was going to give her what they both wanted.
He released her, jerked his suit jacket off and ripped off his tie. Next his shirt came off. Then he couldn't wait any longer and he reached under the skirt of her dress and felt the fasteners of her garter belt holding her stockings up.
His cock grew harder. Chelsea still wore stockings and garters. He had asked her to wear them years ago for him just because he thought they were so sexy. She had complied and never went back to pantyhose because stockings and garters made her feel sexy.
Dan unhooked the fasteners and then inched his fingers higher up her thighs letting them feel her damp panties. It nearly undid him.
"Clothes. Off. Now."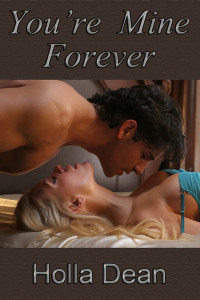 Buy now at      Amazon      Barnes & Noble      Smashwords