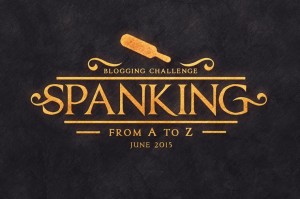 Today is day 4 or D-day of the A to Z Spanking Blog Challenge. As I'm always looking for a chance to plug my Corbin's Bend Season Three book, I thought D would be perfect for Debi Hunter, the heroine of Safe Under Protection. Once she discovers where they'll be relocated under the Witness Protection Program, she dives right in with research on her laptop to learn all she can about the practices that go on in a spanking community.
Blurb: After spotting a mafia hit, Jess and Colleen Bradley find their life turned upside down and on the run. With nowhere else to turn and to protect their family, they accept the assistance of the witness protection program. Their U.S. Marshal, Jack Carmichael, convinces them to move to a small community in Colorado run by his brother.
Jess and Colleen Bradley become Russ and Debi Hunter, the newest residents of Corbin's Bend. Forty years of a vanilla marriage makes them a little out of place in this spanking community. With new names and new jobs, Debi is a little stressed out with her new surroundings. She keeps messing up and calling Russ by his old name. After a successful erotic spanking just to see what all the fuss is about, Russ decides a real spanking might be just what's called for to get Debi to remember his new name and relieve her of some of the stress she's feeling.
Just as they begin to find peace as their new selves in the wilds of Colorado, the protection they feel shatters when Jack calls with the bad news that their security has been compromised and Debi realizes she's being tailed.  As Brent Carmichael and Russ rush out to find Debi and get the two to safety, it might be too late because at that moment, two hit men are set on making sure Debi and Russ are not safe under protection.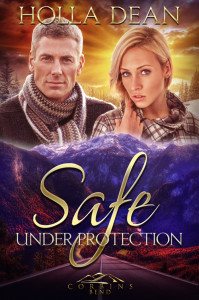 Excerpt: They drove in companionable silence. She'd been spending more time than she should on the various websites and blogs about DD and thinking about spanking. Not only had she learned the basics of DD, but also a little bit about D/s and a few other things. Every time she read a post about someone getting in trouble and being punished, she became aroused.
She was sure she didn't want to live the DD lifestyle. They'd been married far too long for her to start submitting to Russ in virtually every aspect of their lives. After so many years together, they knew how to work and live together. They each knew who was best at doing what.
Yet she couldn't help wondering if spanking could be useful in their relationship. And how exactly would they incorporate it without her becoming submissive? It was one thing when Russ caught her in the bedroom and threw her on the bed while talking dirty. She always submitted to him sexually. It turned her on to have him exert his masculine strength and fuck her silly. She gave a little involuntary laugh when she noticed there was a bit of wetness between her legs just from thinking about all this.
Russ looked at her and asked, "What's so funny?"
She laughed again before answering. "I don't even know how to tell you."
"What? Did something happen you didn't tell me about?"
"I've just been thinking more about the DD lifestyle. All of these women seem to love it. Even the guys who are the ones that get spanked…the…what are they called again…TiH? They like it. Everyone in Corbin's Bend that is doing the submissive route likes it. And I don't get it."
"What's not to get? Everybody that does anything a little different must like it or they wouldn't be doing it."
"I know. But I can't imagine living with a bunch of rules that would get me spanked if I broke them. And at the same time, whenever I look at one of those blogs and read about some poor woman getting her ass spanked, I get all hot and bothered."
"So you've been looking at more blogs and getting horny, huh?" he said it in a teasing tone.
"Don't you start laughing at me again, J…Russ!"
"I can't help it, honey. It's just so funny to me. I mean you've always told me to go fuck off if you thought I was trying to control what you want to do. It just doesn't seem to fit that reading about spanking would get the juices flowing."
"Well, it does. That's exactly what reading about it does to me."
He glanced at her quickly before turning his eyes back to the road. "You mean…you actually get, um…wet?"
"Yes! That's what I'm saying." Debi blushed furiously at admitting it. "In fact, my panties are a little damp just from thinking and talking about it."
"Should we get a hotel room in Denver?" His eyebrows wiggled up and down suggestively.
"Stop making fun of me." She couldn't help laughing at his eyebrows wiggling.
"I'm not making fun of you. It'd be a shame to let your hot and bothered state go to waste."
"Oh, it won't be going to waste. We'll be having a little afternoon delight when we get home."