A to Z Spanking Blog Challenge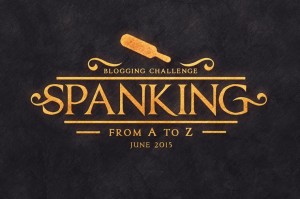 Welcome to Day 2 of the Spanking Blog Challenge! Today's letter is B as in Book Bundles. Who doesn't love a book bundle? You get anywhere from 3 to as many as 10 books all bundled together for a significant savings. Personally, I love buying bundles and I almost never pass up the opportunity. It's a great way to build up your to-be-read list at a reduced cost. Currently I have only one book bundle and it includes the first three books of my Spank Her series. These are all stand alone books so you can read them in any order.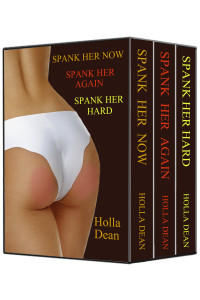 Here are the blurbs for each book in this bundle:
Spank Her Now
Stephen and Eve have been married for fifteen years. Their marriage has become boring, their sex life is boring. Eve wants to spice things up and begins sending Stephen anonymous emails with titles like, 'Does Your Wife Need a Spanking?'
But Stephen doesn't open them because he's concerned about getting a computer virus. The emails keep coming and finally Stephen decides to open one. Eve gets much more than she ever bargained for when Stephen decides Eve's attitude needs adjusting and he takes her over his knee for a long, hard spanking.
Spank Her Again
Maggie leaves her abusive husband and drives with no destination in mind, all she wants is to get far away from him. She ends up in the small town of Blue Moon, Wyoming and finds herself in the medical clinic after fainting in the grocery store. She's under Dr. Robert Spencer's care and he doesn't think Maggie is taking care of herself. Spence believes in the domestic discipline lifestyle and is ready to see to it that Maggie starts taking better care of herself, even if it means putting her over his knee and reddening her backside. But Maggie just left an abusive relationship and is unsure if she wants to get involved with a man who wants to spank her!
Spank Her Hard
Francine is a young single mom, living with her mother, trying to support her twin daughters and go to nursing school. She takes a job at an escort service hoping to make enough money that she'll only have to work a few nights a week, giving her time to study and time to spend with her kids. She meets a client who is too good looking and too much of a gentleman to have to use an escort service. She finds out why he uses professional escorts on her first assignment with him. He has a little bit of a kinky side in the bedroom. He'll pay extra, but is Francine willing to accommodate him?
Buy it now!     Amazon     Barnes&Noble      Smashwords
Check out the rest of this blog hop!