Welcome to another fun Saturday Spankings blog hop! I love the shamrock paddles in the picture above. Very nice touch, Mistress Blake!
Today I'm going to continue where I left off last week with Russ and Debi on their way to Corbin's Bend, a community they know very little about other than people are into spanking. You can check that snippet out here if you like.
Safe Under Protection
Blurb:  After spotting a mafia hit, Jess and Colleen Bradley find their life turned upside down and on the run. With nowhere else to turn and to protect their family, they accept the assistance of the witness protection program. Their U.S. Marshal, Jack Carmichael, convinces them to move to a small community in Colorado run by his brother.
Jess and Colleen Bradley become Russ and Debi Hunter, the newest residents of Corbin's Bend. Forty years of a vanilla marriage makes them a little out of place in this spanking community. With new names and new jobs, Debi is a little stressed out with her new surroundings. She keeps messing up and calling Russ by his old name. After a successful erotic spanking just to see what all the fuss is about, Russ decides a real spanking might be just what's called for to get Debi to remember his new name and relieve her of some of the stress she's feeling.
Just as they begin to find peace as their new selves in the wilds of Colorado, the protection they feel shatters when Jack calls with the bad news that their security has been compromised and Debi realizes she's being tailed.  As Brent Carmichael and Russ rush out to find Debi and get the two to safety, it might be too late because at that moment, two hit men are set on making sure Debi and Russ are not safe under protection.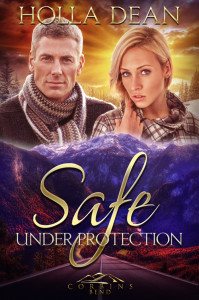 In last week's snippet, Debi has just explained to Russ that when the Corbin's Bend brochures refer to discipline, they are not talking about disciplining your children and she's a little concerned if they'll be able to live in a community where adults are spanked on a regular basis.
      "Is this why you've been so quiet during this whole trip?"
      "I guess. I have been thinking a lot about it and wasn't sure if you understood just what we're getting ourselves into. So what do you think?"
     "For now, I think we just have to deal with it. Jack didn't have a lot of time and he probably thought because of this so-called uniqueness, this would be the perfect place for us to relocate. Who would think to look for us in a spanking community? Hell, who would even think there was such a place as a spanking community? Let's just roll with it and make the best of it."
Who indeed would think there was such a place?
Safe Under Protection release date is May 7th!
Don't forget to check out the rest of the blog hop!

;