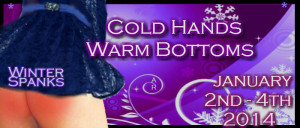 Winter Spanks starts tomorrow! It will run from January 2nd through the 4th. Be sure not to miss it! There is a huge number of participates and it just might take you the two days to get through this blog hop.
Here's a list of the prizes being offered:
 In addition, each participant will be offering a small prize of their own. I'll be offering my book, Maid for a Cowboy. Be sure not to miss this exciting event!