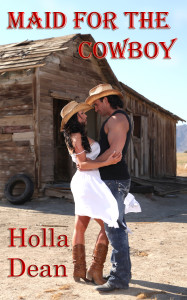 Maid for the Cowboy spent nearly two weeks in the top 100 under the western category before falling out for a day or two. Now, it's back in the top 100!  WooHoo!!
Things heat up between Callie and Joe almost from the start when Callie is hired after answering an ad for a position as housekeeper/cook for five cowboy brothers on their ranch in Arizona. She learns the hard way that Joe means it when he says safety is the most important concern on the ranch. This lesson is given with Callie over Joe's knee and his big hand delivering hard spanks to her bottom.
The attraction between Joe and Callie grows into much more. Soon Callie is in love and has to ask herself if she can reconcile herself to a life with a cowboy who delivers a spanking every time she does something he considers dangerous or unsafe.