Three fun short stories about Santa spanking and/or being spanked.
Janey's life is out of control. She spends too much money, can't seem to keep her house clean, and is totally disorganized. Santa says he can help her but there'll be consequences if she doesn't do what he tells her. Will Janey let Santa help her?
Abbie's job is running the Santa visiting center at the mall. But one of her Santa's can't get to work on time. He has a suggestion for how to bring him in line, but will Abbie go for it? If she does, will she get more than she bargained for?
Beth is exhausted from working overtime and trying to get her new house ready for hosting her first family Christmas. While having nothing but problems getting her tree trimmed and the rest of her decorations up on Christmas Eve, Santa pays her a visit and gets on her nerves telling her she isn't doing anything right.
Beth gets sassy and it doesn't go over well with Santa. How will he handle her mouthy wise cracks?
Warning: This story contains scenes involving adult spanking. Explicit sex scenes. If you are or may be offended by such material, please don't buy this book!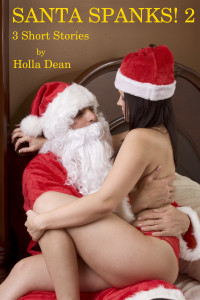 3 Short Santa spanking
stories.
Troublesome Elves: Five elves get in trouble with Mrs. Claus when they play too
many pranks on each other. After giving them all a sound spanking, Mrs. Claus
fears she's been too harsh on the elves and confesses to Santa that perhaps she
could have tried some milder punishments. Santa knows his wife, and he gives
her exactly what she needs to feel forgiven.
Office Santa: Sheila Brennan gets more than she bargained for when her hot new
boss dresses up as the company Santa. Tony Grayson has noticed her little
mini-skirts and finds them inappropriate for business attire. He lets her know
she'll have to change her way of dressing for work, or he'll take care of it by
having her bent over his desk and applying his ruler to her bottom.
A Christmas Spanking: Dana Taylor returns home to the ranch she inherited from
her parents. Chase Matthews is the cowboy who's been running the ranch and he's
not happy with Dana's careless actions around the ranch. The attraction between
them is strong, but after several upsetting incidents, Chase decides only one thing
will straighten up Ms. Taylor and it's not long before she finds herself over
his knee for a spanking.