Renee Rose is here with her book, The Alpha's Promise!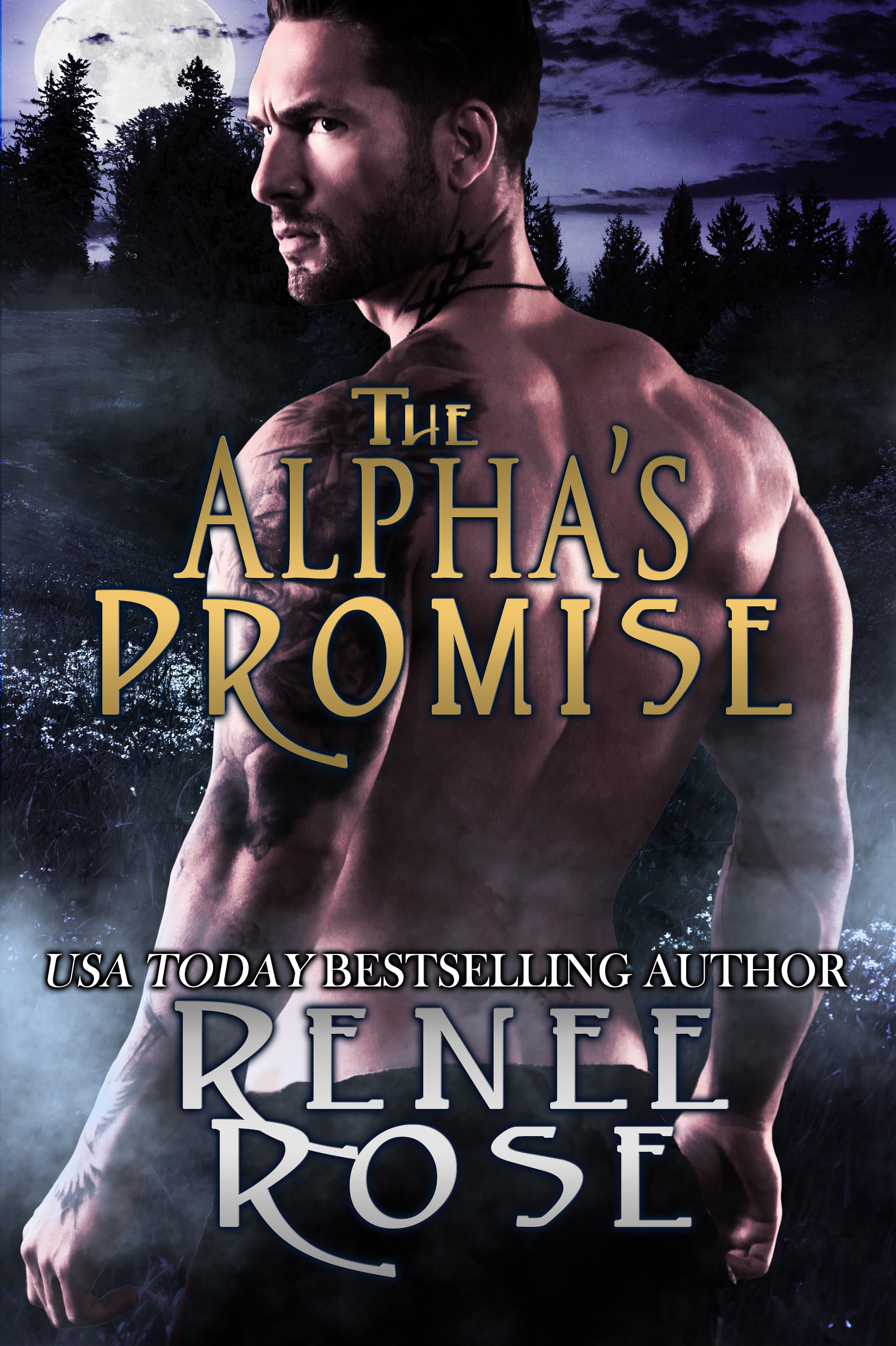 By Renee Rose
I love a bad boy hero. There's something just so satisfying when a tough, buff and tattooed alpha male falls hard for the heroine.  In my new release The Alpha's Promise, I have a dirty sex-talking bad boy shifter, who has been charged with protecting an uppity, sassy human. As you might imagine, the sparks fly.
Here's a little taste,
"You're the one who offered me pack protection. If you weren't always such a smug, cocky bastard, I might have shown a little more gratitude."
The corners of his mouth twitched.
Her heart jumped around in her chest while she watched his gaze turn from scalding to smoldering—with a different kind of heat. "I don't need your thanks," he muttered and reached for her nape yanking her in to claim her mouth, just as he'd done in the middle of the mall. She closed her eyes and melted into the kiss, which was no less violent or consuming than the last one.
One of his hands slid down her back and gripped her ass, squeezing and pulling her hips against him. He wedged one leg between her thighs, and her hips rocked down to rub her clit against it.
She moaned.
"That's it, baby, keep up that sexy moaning." He bit her ear, teeth grazed her jaw before he returned to fuck her mouth with his tongue.
She rolled her pelvis up and down on his thigh, the stimulation against her clit driving her mad.
He lowered and curled his forearm under her ass, lifting her easily to straddle his waist. She looped her arms around his neck, lips still twisting over his in a desperate dance.
She knew it was a bad idea. She didn't want to get into a relationship with another bad boy like Cody. But since the moment he'd first grabbed her in her bedroom closet, she'd been fighting the attraction. Maybe if she just let things ride, the tension would ease between them. It didn't mean she had to be in a relationship with him.
Cody lifted her higher and bit her breast. She shrieked at the pain and violence of it, wondering if he'd left a mark. "Shirt off, Melissa."
Not a request. A command.
A DOMINANT ALPHA. A TEMPTING HUMAN. AN IMPOSSIBLE ATTRACTION.
After one loser boyfriend too many, Melissa Bell swore she was done with bad boys, but when her ex puts her life in danger it is a buff, tattooed, dirty-talking alpha shifter who shows up to save her. More disturbing still, her rescuer makes it clear that he regards Melissa's safety as his personal responsibly, and defying his instructions soon earns her an embarrassing spanking. Though she should be furious, her body's reaction to the tough, handsome wolf's stern dominance demands more.
It doesn't take long for Cody to wish he'd never made an alpha's promise to protect Melissa, yet for some reason he can barely control himself around her. His inner wolf craves the beautiful human in spite of her snobbish attitude and constant sass, and when she is writhing over his knee, it is all he can do not to mark her and mate her right then and there.
Each moment he spends with the alluring, feisty girl only increases his hunger for her, but Cody promised himself long ago that he would never take a human as his mate. Will his pride push Melissa away forever, just when he realizes he can't live without her?
Publisher's Note: The Alpha's Promise is a stand-alone sequel to The Alpha's Hunger. It includes spankings and sexual scenes. If such material offends you, please don't buy this book.
***Sale! ***
The Alpha's Hunger, Book 1 in the Alpha Dom series in on sale for just $.99 Nov. 21-28th.  Universal buy link: http://books2read.com/u/m0zvA0
About Renee Rose
USA Today Bestselling Author Renee Rose is a naughty wordsmith who writes kinky BDSM and spanking romance novels. Named Eroticon USA's Next Top Erotic Author in 2013, she has also won The Romance Reviews Best Historical, Sci-Fi and BDSM awards, Spanking Romance Reviews' Best Historical, Erotic,  Ageplay and favorite author, and was a finalist for The BDSM Writer's Con Golden Flogger award. She's hit #1 on Amazon in multiple categories in the U.S. and U.K., is often found on the list of Amazon's Top 100 Erotic Authors and has been a regular columnist for Write Sex Right. She also pens BDSM stories under the name Darling Adams.  To receive four free books from Renee, sign up for her mailing list here.
Social Media Links:
Newsletter | Blog | Twitter | Facebook | Goodreads | Pinterest | Amazon |  Instagram