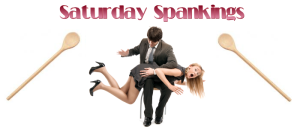 Welcome to Saturday Spankings! This is my first time participating in SatSpanks. I've been wanting to do it for a while and just never get around to it. I love reading all the little 8 sentence snippets the authors post. It's a great way to start a lazy Saturday morning. Don't forget to visit the other Saturday Spankings posts.
Stephen and Eve have been married for fifteen years. Their marriage has become boring, their sex life is boring. Eve wants to spice things up and begins sending Stephen anonymous emails with titles like, 'Does Your Wife Need a Spanking?'
But Stephen doesn't open them because he's concerned about getting a computer virus. The emails keep coming and finally Stephen decides to open one. Eve gets much more than she ever bargained for when Stephen decides Eve's attitude needs adjusting and he takes her over his knee for a long, hard spanking.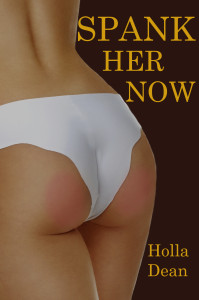 In an attempt to spice up their bedroom activities, Eve has been manipulating her husband to spank her. He's finally ready to give Eve her first spanking and calls her into their bedroom.
Eve approached him and asked, "What is it, Stephen? What do you want?" She deliberately put an impatient tone in her voice.
Stephen looked up at her and put his arm around her waist as if to draw her closer to him. But instead he bent her over his knee so her ass was directly on his lap. He lifted her skirt and yanked down her panties, exposing the flawless skin of her beautiful ass.
While he was doing all that, he was saying, "Eve, I've had it with your snippy attitude; I've had it with your impatience. I've wanted to give you the spanking you deserve many times, and I'm going to do it now."