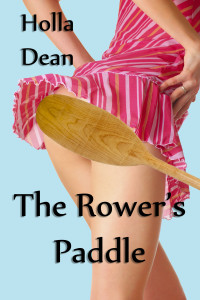 The Rower's Paddle
Jenny and her friend are talking about the book Sarah has just finished reading and Sarah tells Jenny she wants her boyfriend to spank her when she falls behind in her schoolwork to make sure she stays on track. Jenny tells her she doesn't need those kinds of spanking because she's a good girl. But then she remembers the little white lie she told her boyfriend, Mike. Here's their conversation about whether Jenny should confess about the lie.
Sarah finished reading the first book on Jenny's e-reader and she told Jenny she was incredibly turned on while she was reading the spanking scenes.
"I'm even wondering if I should suggest to Dennis that he give me a spanking when I'm late on my homework or don't get a good grade."
Sarah had a bad habit of letting her homework slide when she had more interesting things to do. What made it even worse, was that almost anything was more interesting to Sarah then homework. She was at the college on a partial scholarship and if she didn't keep a certain grade point average, she would lose her scholarship. As each semester drew to a close, Sarah was always in a constant struggle to get her grades up so she would still qualify for her scholarship.
"Do you think that would really help?" Jenny asked.
"I don't know, but I'd be willing to give it a try. Maybe the threat of getting a spanking if my homework wasn't done on time would be incentive enough to keep my nose in the books."
"Well, I don't have that problem. But I did tell Mike a little white lie I've been feeling a little guilty about."
"What did you lie about?"
"I was just telling him about how you wanted to read my aunt's books and then he asked me if I had told you what he and I did. You know, about him spanking me. I knew he wouldn't like that I told you, so I just blurted out the lie and said no."
"Uh oh, from what I read in the book that would fall under the dishonesty category of the four D's you are supposed to be following. And I think that earns you an immediate spanking. No warnings for lying, it's just straight over the knee for your spanking."
Sarah started laughing and teasing Jenny about how she was going to get her butt whipped for telling a fib.
"I don't think so," Jenny said. "First of all, Mike and I are not in a domestic discipline relationship. We haven't agreed to anything like that. So my little lie will not get me a punishment spanking."
"Well, I'm just dying to know if Mike is gonna feel the same way. Are you going to confess?"
"Probably. Just because I do feel bad that I lied. And if he ever finds out and I don't confess, he might not trust me anymore or think I've told other little lies."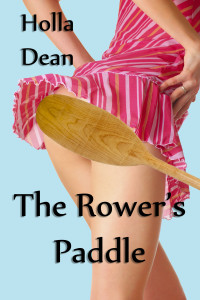 Blurb:
A fun tale of what happens when Jenny, a young college student, goes home for winter break to spend the holidays with her family and discovers her aunt is writing erotic novels. The stories Aunt Naomi writes are about something called Domestic Discipline and involve spanking, both for punishment and erotic fun. To her surprise, Jenny becomes very aroused while reading the stories.
When school begins for the spring semester, Jenny's roommate wants to read the novels and several other friends borrow Jenny's e-reader. Soon, there's a surprising amount of squirming and wriggling going on in the classrooms as young ladies struggle to sit comfortably on their sore bottoms.
Jenny and her boyfriend, Mike, begin experimenting with erotic spankings. It isn't long before Jenny is caught in a lie and the young couple has to decide if they want to step into the Domestic Discipline dynamic. Will Jenny agree to allow Mike to punish her?