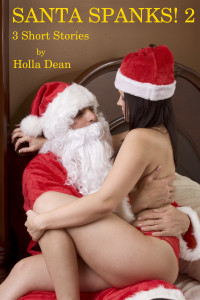 Yeah, I know it's Halloween today and Christmas seems to still be a long way off, but I'm still excited to post the new Santa Spanks! 2 book.
Here's a little snippet for you:
Holly's laughter had ended abruptly as soon as Mrs. Claus had made her appearance. Her eyes were wide with fear now. She hadn't expected the other elves to tattle on her. After all, she hadn't accused them of hiding her tool case.
"Holly? Did you do those things?"
"Yes, ma'am," Holly answered. "But only to get them back for hiding my tool case this morning."
"Well, two wrongs don't make a right, young lady. Now get up and come with me to the kitchen."
Holly put down her ribbons and slid off her stool. With her head hanging in shame, she followed Mrs. Claus to the kitchen.
"Go to that corner," Mrs. Claus pointed. "You will sit there, on the naughty stool, for thirty minutes and think about what you did."
"But they did something to me first!" Holly was on the verge of crying.
"I understand, Holly. That still doesn't make what you did right. Now, thirty minutes in the corner and think about what you did."
"Thirty minutes! That's too long!" Holly protested.
"Would you rather I put you over my knee and spank your bottom with my wooden spoon, young lady?" Mrs. Claus's voice was very stern.
"No, ma'am," Holly's voice quavered.
"Good, then go to the corner now."
"Yes, ma'am."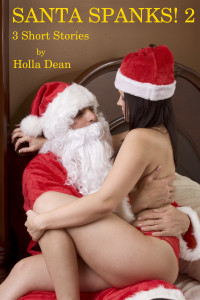 3 Short Santa spanking stories.
Troublesome Elves: Five elves get in trouble with Mrs. Claus when they play too many pranks on each other. After giving them all a sound spanking, Mrs. Claus fears she's been too harsh on the elves and confesses to Santa that perhaps she could have tried some milder punishments. Santa knows his wife, and he gives her exactly what she needs to feel forgiven.
Office Santa: Sheila Brennan gets more than she bargained for when her hot new boss dresses up as the company Santa.  Tony Grayson has noticed her little mini-skirts and finds them inappropriate for business attire. He lets her know she'll have to change her way of dressing for work, or he'll take care of it by having her bent over his desk and applying his ruler to her bottom.
A Christmas Spanking: Dana Taylor returns home to the ranch she inherited from her parents. Chase Matthews is the cowboy who's been running the ranch and he's not happy with Dana's careless actions around the ranch. The attraction between them is strong, but after several upsetting incidents, Chase decides only one thing will straighten up Ms. Taylor and it's not long before she finds herself over his knee for a spanking.