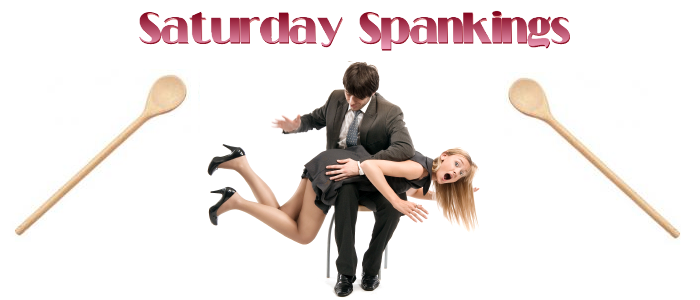 Welcome to another Saturday Spankings! Can you believe it's September? Where the heck did the year go? Anyway, on with Monsoon Heat (due to be released in just 10 short days!) and this week's snippet. Last week, Harrie had her final warning and Chance had enough of the foul language spewing from her mouth. He's ready to follow through on his threat. If you missed it, you can read it here.
Harrie is wearing a short leather skirt and Chance is experiencing more pain than Harrie while he spanks her.
It didn't take many more spanks before Chance discovered spanking a leather covered bottom probably hurt his hand more than it hurt her butt. The skirt had to go. Even with her kicking legs and flailing arms, he raised his right leg to lift her bottom, and yanked up the tight skirt. It was too tight for him to get it up completely over her shapely ass in this position, but her lower buttocks and sit spot were nicely exposed thanks to her high riding bikini panties and he thought that should be enough to get his message across to her.
"You son of a bitch!" Harrie shrieked as she felt the hot desert air on her ass. "Let me up right now!"
He ignored her tirade and commenced laying rhythmic smacks on her bared skin. Her legs were still kicking and he landed a smack on her tender upper thigh. "Keep kicking, and your thighs are gonna get the worst of this spanking.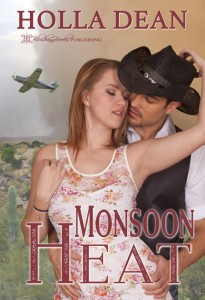 Blurb: Sparks fly when a city girl who thinks she's learned how to handle men in her male dominated career comes up against a rancher who has very different ideas on how women should behave.
When Chance O'Callaghan picks up his insurance estimator at the Phoenix executive terminal, the last thing he expects is a hot young lady in four-inch stilettos and a short, tight, leather skirt. His insurance agent promised to send his best estimator, Harry Sloan. Turns out Harry is actually Harrie – short for Harriet. A city girl doing what commonly is a man's job. Determined to make the best of the situation, they get in Chance's small six-seater single-engine plane and head for his ranch.
A massive dust storm forces them to land in the desert and what should have been a short, one hour flight becomes a five day trek through the hot desert with limited water and virtually no food.
Can their strong mutual attraction become more than just a casual thing as they make their way to Chance's ranch or will their budding love burn out in the hot Arizona desert?
Don't forget to check out the rest of the posts on this blog hop!